Are plant growth retardants a strategy to decrease lodging and increase yield of sunflower?
Keywords:
Helianthus annuus, maleic hidrazide, trinexapac-ethyl
Abstract
One of the major disadvantages of sunflower cultivation is the increased plant height, making it prone to the lodging. The use of plant growth retardants can be an alternative strategy to reduce plant height; however, these compounds may affect productivity. The aim of this study was to evaluate the effects of plant growth retardants on sunflower development and yield. Four treatments were studied: 1- control; 2- gibberellic acid (GA) 10 mg L−1; 3- trinexapac-ethyl (TE) 5 mL L−1, and 4- maleic hidrazide (MH) 8 mL L−1. TE and MH decreased plant height (16.9 and 35.9%, respectively); however, only TE positively influenced capitulim diameter and dry mass (46.7 and 311%, when compared to control) at 60 days after planting (DAP). At 81 DAP, dry mass of capitulum did not differ among control and TE-treated plants. On the other hand, MH impaired diameter and dry mass of capitulum (92.9 and 74.7%, respectively). It can be concluded that the application of TE is a potential strategy to decrease lodging probability without affecting sunflower yield. Furthermore, although MH negatively affected sunflower development, its use on the crop cannot be excluded since other doses, frequencies and moment of application can be studied.
Downloads
Download data is not yet available.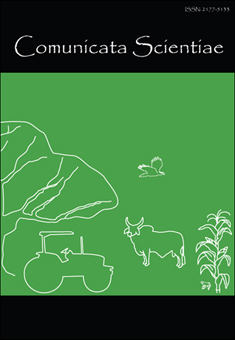 Downloads
How to Cite
Carvalho, M. E. A., Castro, P. R. de C. e, Ferraz Junior, M. V. de C., & Mendes, A. C. C. M. (2016). Are plant growth retardants a strategy to decrease lodging and increase yield of sunflower?. Comunicata Scientiae, 7(1), 154–159. https://doi.org/10.14295/cs.v7i1.1286
License
All articles published may be reproduced or utilized in any form or by any means whether specified Comunicata Scientiae, author(s), volume, pages and year. The authors are responsible for all the statements and concepts contained in the article.