Brachiaria brizantha cv. Marandu response to nitrogen fertilizers associated to natural reactive phosphate
Carlos Eduardo Avelino Cabral

Universidade Federal de Mato Grosso, Cuiabá, MT, Brasil

Luciano da Silva Cabral

Universidade Federal de Mato Grosso, Cuiabá, MT, Brasil.

Edna Maria Bonfim-Silva

Universidade Federal de Mato Grosso, Rondonópolis, MT, Brasil

Kassio dos Santos Carvalho

Escola Superior de Agricultura Luiz de Queiroz, Programa de Pós-graduação de Engenharia de Sistemas Agrícolas, Piracicaba, SP, Brasil.

Bruna Elusa Kroth

Universidade Federal de Mato Grosso, Rondonópolis, MT, Brasil

Carla Heloisa Avelino Cabral

Universidade Federal de Mato Grosso, Rondonópolis, MT, Brasil
Keywords:
phosphorus, oxisol, ammonium sulfate, urea
Abstract
This study aimed to identify a proportion of urea and ammonium sulfate associated to natural reactive phosphate that coud maximize the production of 'marandu' grass in a red clayay oxisol with low phosphorus content. The experiment was conducted in a greenhouse with a completely randomized design , in split plots in the time with seven repetitions. The main plots consisted of six levels of the substitution of urea by ammonium sulfate: 0, 20, 40, 60, 80 and 100%. The split plots consisted of three growth periods, being the first 30 days after plants emergence and the others spaced 20 days after the previous evaluation. The evaluated variables were: number of tillers, SPAD value, shoot, leaf blade and stem dry mass. The ammonium sulfate can provide higher soil acidity when compared to urea, which contributes to the reactive phosphate solubilization. Ammonium sulfate increment changes the SPAD value of 'marandu' grass fertilized with natural reactive phosphate.
Downloads
Download data is not yet available.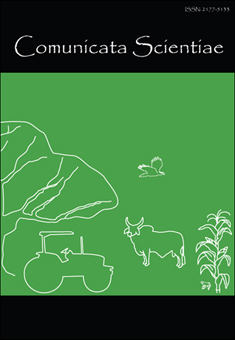 How to Cite
Avelino Cabral, C. E., Cabral, L. da S., Bonfim-Silva, E. M., Carvalho, K. dos S., Kroth, B. E., & Cabral, C. H. A. (2016). Brachiaria brizantha cv. Marandu response to nitrogen fertilizers associated to natural reactive phosphate. Comunicata Scientiae, 7(1), 66-72. https://doi.org/10.14295/cs.v7i1.964
This work is licensed under a Creative Commons Attribution-NonCommercial 4.0 International License.
All articles published may be reproduced or utilized in any form or by any means whether specified Comunicata Scientiae, author(s), volume, pages and year. The authors are responsible for all the statements and concepts contained in the article.