Alimentary restriction on male betta fish (Betta splendens) performance
Keywords:
compensatory growth, fasting, feeding strategy, siamese fighting fish, ornamental fish
Abstract
The aim of this study was to evaluate the effects of alimentary restriction on Betta splendens performance. For the experiment, 24 males were used, with initial average weight of 0.55 ±0.06 grams, distributed in 24 experimental aquaria with 1.5 liters of water without aeration in a completely randomized design, with four treatments and six repetitions. The treatments were: T1 – daily fed animals (control), T2 - fed for six days and one day of restriction (6A/1R), T3 - fed for five days and two days of restriction (5A/2R) and T4 - fed for four days with three days of restriction (4A/3R). The fishes were fed twice a day at 08:00am and 4:00pm. The variables studied were: final weight (FW), weight gain (WG), alimentary conversion (FC), average feed consumption (CMR), total length (CTOTAL), standard length (CPADRÃO) profile index (IPERFIL), condition factor (CF) and height. The results were submitted to variance analysis (ANOVA), and the means were compared by Tukey´s test at 5% of probability. No significant differences were observed for the following variables: water quality, survival, alimentary conversion and profile index. The best growth performance was observed when the feeding management of 6A/1R was applied.
Downloads
Download data is not yet available.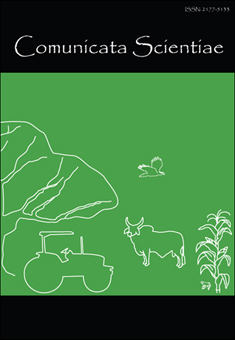 Downloads
How to Cite
Santos, E. L., Soares, E. C., Silva, T. J., Albuquerque, I. C. de M., & Moura, S. C. de S. (2016). Alimentary restriction on male betta fish (Betta splendens) performance. Comunicata Scientiae, 7(1), 12–23. https://doi.org/10.14295/cs.v7i1.871
License
All articles published may be reproduced or utilized in any form or by any means whether specified Comunicata Scientiae, author(s), volume, pages and year. The authors are responsible for all the statements and concepts contained in the article.