Valor nutricional de resíduos da agroindústria para alimentação animal
Arinalva Maria Silva

Universidade Federal da Bahia

Ronaldo Lopes Oliveira

Universidade Federal da Bahia

Ossival Lolato Ribeiro

Universidade Federal da Bahia

Adriana Regina Bagaldo

Universidade Federal do Recôncavo da Bahia

Leison Rocha Bezerra

Universidade Federal do Piauí

Silvana Teixeira Carvalho

Universidade Estadual do Oeste do Paraná

Claudilene Lima Abreu

Universidade Federal de Mato Grosso do Sul

André Gustavo Leão

Universidade Federal de Mato Grosso
Abstract
Objetivou-se avaliar o valor nutritivo de resíduos com potencial na alimentação animal, através da composição químico-bromatólogica, fracionamento dos carboidratos e proteínas, digestibilidade in vitro da matéria seca (DIVMS) e nutrientes digestíveis totais (NDT). Os dados foram submetidos a análises estatísticas descritivas (médias) e multivariadas de agrupamento com estabelecimento de seis grupos. O grupo G1 apresentou alto teor de proteína bruta (PB), podendo assim ser caracterizado como concentrado protéico; G2 apresentou nível elevado de fibra detergente neutro (FDN) com média concentração em PB, podendo ser caracterizado como volumoso; G3 apresentou nível elevado FDN com baixa concentração em PB, podendo ser caracterizado como volumoso; G4 e G5 apresentaram níveis médios de FDN e alto teor de NDT, podendo ser caracterizados como volumosos energéticos e G6 apresentou alto teor de PB e NDT, podendo ser caracterizado como concentrado protéico e energético. Todos os resíduos avaliados possuem bom valor nutricional, destacando-se o grupo G6 (torta de amendoim) por ser alimento protéico e energético, além de apresentar alta digestibilidade, sendo, portanto um alimento mais completo para alimentação animal. O conhecimento do valor nutricional dos resíduos possibilita a sua utilização na dieta de animais de forma mais eficiente, para que possam ser utilizados como fontes estratégicas de alimentos em período crítico de escassez de volumoso, ou em substituição a alimentos tradicionais que são mais caros.
Downloads
Download data is not yet available.
References
Arrigoni, M.D.B., Martins, L.M., Sarti, L.M.N., Barducci, R.S., Franzói, M.C.S., Vieira Júnior, L.C., Perdigão, A., Ribeiro, F.A., Factori, M.A. 2013. Níveis elevados de concentrado na dieta de bovinos em confinamento. Veterinária e Zootecnia 20(4): 539-551.
Andrade Júnior, P.P., C.A. Martins. 2013. Biodiesel and its strategic role in the Brazilian energy matrix: A Literature Review. Engineering Research: Technical reports 4(5):1-18.
Association of Official Analytical Chemists - AOAC. 1990. Official methods of analysis. 15.ed. Washington.
Braga Sobrinho, R. 2014. Integrated production of Annonaceae in Brasil. Rev. Bras. Frutic., 36(1): 102-107.
Bueno, C.F.D., Veloso, A.L.C., Faria Filho, D.E., Dias, A.N., Fernandes, V., Couto, F.A.P.C., Matos Júnior, J.B., Carneiro, W.A. 2014. Detoxified castor cake feed for laying hens. Cienc. Rural 44(3): 538-543.
Casali, A.O., Detmann, E., Valadares Filho, S.C., Pereira, J.C., Henriques, L.T., Freitas, S.G., Paulino, M.F. 2008. Influência do tempo de incubação e do tamanho de partículas sobre os teores de compostos indigestíveis em alimentos e fezes bovinas obtidos por procedimentos in situ. Rev. Bras. Zootecn., 37(2): 335-342.
Custódio, D.P., Brandstetter, E.V., Oliveira, I.P. de, Oliveira, L.C., Santos, K.J.G. dos, Machado, O.F., Araújo, A.A. 2005. Ração: alimento animal perecível. Ver. Eletr. Facul. Montes Belos 1: 131-147
García, P., Romero, C., Brenes, M. 2014. Influence of olive tree irrigation and the preservation system on the fruit characteristics of Hojiblanca black ripe olives. LWT - Food Science and Technology 55(1): 403-407.
Hall, M.B. 2003. Challenges with nonfiber carbohydrate methods. J Animal Sci, 81: 3226-3232.
Ho, A.L., Carvalheiro, F., Duarte, L.C., Roseiro, L.B., Charalampopoulos, D., Rastall, R.A. 2014. Production and purification of xylooligosaccharides from oil palm empty fruit bunch fibre by a non-isothermal process. Bioresource Technology 152: 526–529.
Ivan, M., Petit, H.V., Chiquette, J., Wright, A.D.G. 2013. Rumen fermentation and microbial population in lactating dairy cows receiving diets containing oilseeds rich in C-18 fatty acids. Brit. J. Nutr. 109(07): 1211-1218.
LHStat® software versão 3.2 da Universidade Regional de Blumenau,2005.
Licitra, G., T.M. Hernandez, P.J. Van Soest. 1996. Standardization of procedures for nitrogen fractionation of ruminant feeds. Ani Feed Sci and Technology 57(4): 347-358.
Mizubuti, I.Y., Ribeiro, E.L.A., Pereira, E.S., Peixoto, E.L.T., Moura, E.S., Prado, O.P.P., Bumbieris Junior, V.H., Silva, L.D.F., Cruz, J.M.C. 2014. Ruminal degradation kinetics of protein foods by in vitro gas production technique. Semina: Ciências Agrárias 35(1): 555-566.
Obeid, J.A., Pereira, O.G., Pereira, D.H., Valadares Filho, S.C., Carvalho, I.P.C., Martins, J.M. 2007. Consumo e digestibilidade total e parcial de componentes nutritivos em bovinos de corte alimentados com dietas contendo diferentes níveis de proteína bruta. Rev. Bras. Zootecn. 36(4): 921-927.
Pereira, E.S., Regadas Filho, J.G.L., Arruda, A.M.V. de, Mizubuti, I.Y., Villarroel, A.B.S., Pimentel, P.G., Cândido, M.J.D. 2008. NRC (2001) equations to predict the energy value of agroindustry byproducts in Brazilian northeast. Rev. Bras. Saúde Prod. Ani. 9(2): 258-269.
Russell, J.B., O'connor, J.D., Fox, D.G., Van Soest, P.J., Sniffen, C.J. 1992. A net carbohydrate and protein system for evaluating cattle diets: I. Ruminal fermentation. J Animal Sci 70(12): 3551-3561.
SILVA, F.V., Carvalho, Z.G., Sá, H.C.M., Oliveira, L.L.S., Alves, D.D., Silva, V.L., Soares, F.D.S., Santos, C.C.R. 2014. Weight gain, carcass and meat traits of ewes finished on pasture with different levels supplementation. Rev. Bras. Saúde Prod. Anim. 15(1): 206-220.
Silva, E.C., Ferreira, M.A., Véras, A.S.C., Bispo, S.V., Conceição, M.G., Siqueira, M.C.B., Salla, L.E., Souza, A.R.D.L. 2013. Replacement of corn meal by corn germ meal in lamb diets. Pesq. agropec. bras 48(4): 442-449.
Sniffen, C.J., O'connor, J.D., Van Soest, P.J., Fox, D.G., Russell, J.B. 1992. A net carbohydrate and protein system for evaluating cattle diets. II. Carbohydrate and protein availability. J Animal Sci 70(11): 3562-3577.
Souza, A.D.V., Fávaro, S.P., Ítavo, L.C.V., Roscoe, R. 2009. Caracterização química de sementes e tortas de pinhao‑manso, nabo‑forrageiro e crambe. Pesq. agropec. bras. 44(10): 1328-1335.
Tilley, J. M. A., Terry, R. A. 1963. A two-stage technique for the in vitro digestion of forage crops. J Brit. Grassland Society 18: 104-11.
Van Soest, P.J., Robertson, J.B., Lewis, B.A. 1991. Methods for dietary fiber, neutral detergent fiber , and nonstarch polysaccharides in relation to animal nutrition. J Dairy Sci 74(10): 3583-3597.
Xin, H., Yu, P. 2013. Chemical Profile, Energy Values, and Protein Molecular Structure Characteristics of Biofuel/Bio-oil Co-products (Carinata Meal) in Comparison with Canola Meal. J Agricul and Food Chemistry 61(16): 3926–3933.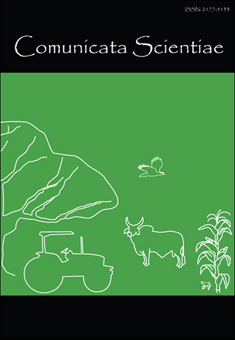 How to Cite
Silva, A., Oliveira, R., Ribeiro, O., Bagaldo, A., Bezerra, L., Carvalho, S., Abreu, C., & Leão, A. (2014). Valor nutricional de resíduos da agroindústria para alimentação animal. Comunicata Scientiae, 5(4), 370-379. https://doi.org/10.14295/cs.v5i4.870
All articles published may be reproduced or utilized in any form or by any means whether specified Comunicata Scientiae, author(s), volume, pages and year. The authors are responsible for all the statements and concepts contained in the article.