Vegetative growth and nutrient content in olive seedlings in competition with weeds
Keywords:
competitivity, management, nutritional status
Abstract
Olive tree has improved yield and production area in Brazil. However, little is known about the weeds impact on olive tree growth and nutrition. The study was carried out to evaluate the vegetative growth and nutrient contents in olive tree seedlings in competition with different weed species. The 2x5 factorial scheme was used, being the factors a combination of two olive cultivars ('Arbequina' and 'Ascolano') and four competing plant species, Brachiaria brizantha, Amaranthus retroflexus, Bidens pilosa, Cenchrus echinatus and one control treatment (without competition), distributed in a completely randomized design with four replications and the evaluations were carried out at 45 and 90 days after weed emergence. For each specie, the density of one competing plant per pot was established and the thinning was done immediately after weed emergence. The period of coexistence between olive cultivars and competing plants was 90 days after weed emergence. Weed competiton affectedolive seedlings growth, dry mass and nutrient accumulation.. 'Ascolano' was more tolerant to weed competition and A. retroflexus and B. pilosa were the species with the greater potential to competition with olive seedlings.
Downloads
Download data is not yet available.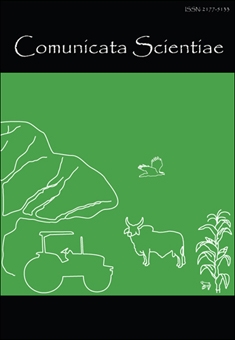 Downloads
How to Cite
Martins, L. M., Cruz, M. do C. M., de Oliveira, A. F., dos Santos, J. B., & Fagundes, M. C. P. (2015). Vegetative growth and nutrient content in olive seedlings in competition with weeds. Comunicata Scientiae, 6(4), 430–436. https://doi.org/10.14295/cs.v6i4.849
License
All articles published may be reproduced or utilized in any form or by any means whether specified Comunicata Scientiae, author(s), volume, pages and year. The authors are responsible for all the statements and concepts contained in the article.