Genetic diversity of clones of acerola assessed by ISSR molecular markers
Eveline Nogueira Lima

universidade federal do ceara

Maria Emilia Bezerra de Araujo

universidade federal do ceara

Candida Hermínia Campos de Magalhães Bertini

universidade federal do ceara

Carlos Farley Herbster Moura

embrapa

Maraisa Crestani

embrapa
Keywords:
Malpighia emarginata, genetic improvement, genetic variability, molecular biology
Abstract
The Indian cherry (Malpighia emarginata) is a tropical fruit originated from American continent. In Brazilian orchards, there was high variability among cultivated genotypes. On the order hand, high variability allows the identification of superior genotypes for cropping industry. This study aimed to evaluate the genetic variability among 56 genotypes using ISSR (Inter Simple Sequence Repeats) primers. Leaf samples were collected in Pacajus-CE and taken to the laboratory of Molecular Biology postharvest, in Fortaleza. Altogether, 20 primers were used which yielded 148 polymorphic bands (79.57%), enabling the differentiation within the population study. As a result, this information may be used in future studies on breeding programs, such as choosing best combinations for parental crossings.
Downloads
Download data is not yet available.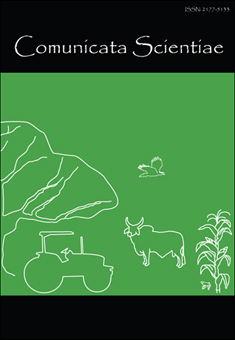 How to Cite
Lima, E. N., de Araujo, M. E. B., Magalhães Bertini, C. H. C. de, Moura, C. F. H., & Crestani, M. (2015). Genetic diversity of clones of acerola assessed by ISSR molecular markers. Comunicata Scientiae, 6(2), 174-180. https://doi.org/10.14295/cs.v6i2.541
This work is licensed under a Creative Commons Attribution-NonCommercial 4.0 International License.
All articles published may be reproduced or utilized in any form or by any means whether specified Comunicata Scientiae, author(s), volume, pages and year. The authors are responsible for all the statements and concepts contained in the article.