THE IMPACT OF SOWING DATES AND VARIETIES ON THE INCIDENCE OF OXYCARENUS LAETUS AND DYSDERCUS KOINGII ON COTTON
Muhammad Rafiq Shahid

Cotton Research Institute, Faisalabad, pakistan

Abid Mahmood

Cotton Research Institute, Faisalabad, pakistan

Jehanzeb Farooq

Cotton Research Institute, Faisalabad, pakistan

Muhammad Tasdeeq Hussain Shahid

Cotton Research Institute, Faisalabad, pakistan

Muhammad Asif

Cotton Research Institute, Faisalabad, pakistan

Muhammad Ramzan

Cotton Research Institute, Faisalabad, pakistan

Muhammad Akram

Cotton Research Institute, Faisalabad, pakistan

Muhammad Shahid Iqbal

Cotton Research Institute, Faisalabad, pakistan
Keywords:
Red cotton bug, dusky bug, cultural practices, pest status, sowing date
Abstract
Dusky bug (Oxycarenus laetus) and red cotton bugs (Dysdercus koingii) are commonly known as seed bugs because they feed on cotton seed. They have become major threat to cotton in Pakistan since last two years. The present studies were therefore planned to find out the role of sowing dates in cotton pest population. The dusky and red cotton bug population varied considerably with respect to date of sowing. The results revealed that invasion of both bugs was significantly more in case of early sowing ( up to 15 red cotton bug/plant & 25 dusky bugs/boll) than in normal and late sowing (8 to 10 red cotton bugs & 10 to 12 dusky bug/boll respectively). Sampling dates exhibited that population of cotton bugs (dusky and red cotton bug) was higher during first week of October followed by mid September, 2013, whereas lower in late sowing. Varietal comparison depicted that FH-118 and FH-142 showed non significant difference for red and dusky cotton bug population. The results further explained that peak population of red cotton bug was recorded during the month of October, 2013.
Downloads
Download data is not yet available.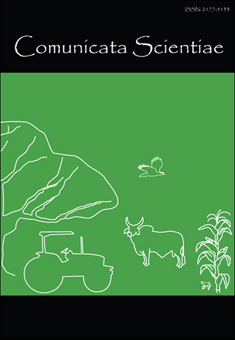 How to Cite
Rafiq Shahid, M., Mahmood, A., Farooq, J., Tasdeeq Hussain Shahid, M., Asif, M., Ramzan, M., Akram, M., & Shahid Iqbal, M. (2014). THE IMPACT OF SOWING DATES AND VARIETIES ON THE INCIDENCE OF OXYCARENUS LAETUS AND DYSDERCUS KOINGII ON COTTON. Comunicata Scientiae, 5(4), 412-418. https://doi.org/10.14295/cs.v5i4.488
All articles published may be reproduced or utilized in any form or by any means whether specified Comunicata Scientiae, author(s), volume, pages and year. The authors are responsible for all the statements and concepts contained in the article.