Laticifers distribution in secondary phloem of the Amazon wood specieswood species
Alexandre Antonio Alonso

Universidade Federal do Piauí

Maria Silvia Mendonça

Universidade Federal do Amazonas

Renato Santos Reis

Universidade Federal do Amazonas

Pedro Luís Trevisan Araújo Biondo

Universidade Federal do Amazonas

Ressiliane Ribeiro Prata Alonso

Projeto Piatam - Inteligência Socioambiental Estratégica da Indústria de Petróleo na Amazônia, Manaus
Keywords:
Amazon rainforest, laticifers, secondary phloem
Abstract
In this paper described the anatomical distribution of laticifers from the bark of Hura crepitans
and Ficus maxima, typical floodplain trees in the Amazon forest. By observing samples which were
processed by usual plant anatomy techniques, it was possible to verify that there were laticifers
presenting radial distribution in the secondary stem phloem of F. maxima, and a diffuse distribution
in the axial phloem in H. crepitans.
Downloads
Download data is not yet available.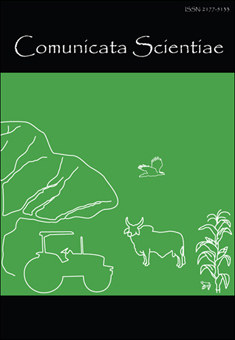 How to Cite
Alonso, A. A., Mendonça, M. S., Reis, R. S., Araújo Biondo, P. L. T., & Prata Alonso, R. R. (2013). Laticifers distribution in secondary phloem of the Amazon wood specieswood species. Comunicata Scientiae, 4(2), 212-215. https://doi.org/10.14295/cs.v4i2.233
All articles published may be reproduced or utilized in any form or by any means whether specified Comunicata Scientiae, author(s), volume, pages and year. The authors are responsible for all the statements and concepts contained in the article.