Development and quality of ryegrass in an understorey of angico-vermelho in a silvopastoral system
Janine Pilau

Universidade Federal de Santa Maria

Elvis Felipe Elli

Universidade Federal de Santa Maria

Maicon Nardino

Universidade Federal de Santa Maria

Cleiton Korcelski

Universidade Federal de Santa Maria

Denise Schmidt

Universidade Federal de Santa Maria

Braulio Otomar Caron

Universidade Federal de Santa Maria
Keywords:
Lolium multiflorum, Parapiptadenia rigida, shading, solar radiation
Abstract
The aim of this study was to evaluate the development and quality of ryegrass in an understorey of angico-vermelho in a silvopastoral system. The experimental design was a complete randomized block, with a 2x6 factorial, being two systems of production (full sunlight and silvopastoral) and six times of harvest (15, 30, 45, 60, 75 and 90 days after ryegrass emergence), with three replications. The interception of the photosynthetically active solar radiation, average air temperature, dry matter, leaf area and protein content were evaluated. According to the analysis of variance, the interaction between production system and time of harvest resulted in significant differences for dry matter and the protein content and leaf area resulted in differences only according to the harvest time. The development of ryegrass is influenced by shading, when grown in this study conditions. The shade provided by angico-vermelho reduces the amount of ryegrass dry matter of ryegrass, but this reduction does not limit the use of the specie to compose a silvopastoral system. The total protein content and leaf area of ryegrass are not influenced by the light restriction.
Downloads
Download data is not yet available.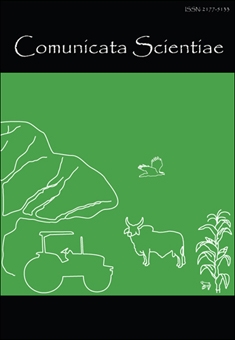 How to Cite
Pilau, J., Elli, E. F., Nardino, M., Korcelski, C., Schmidt, D., & Caron, B. O. (2015). Development and quality of ryegrass in an understorey of angico-vermelho in a silvopastoral system. Comunicata Scientiae, 6(4), 437-444. https://doi.org/10.14295/cs.v6i4.1079
Copyright (c) 2016 Janine Pilau, Elvis Felipe Elli, Maicon Nardino, Cleiton Korcelski, Denise Schmidt, Braulio Otomar Caron
This work is licensed under a Creative Commons Attribution-NonCommercial 4.0 International License.
All articles published may be reproduced or utilized in any form or by any means whether specified Comunicata Scientiae, author(s), volume, pages and year. The authors are responsible for all the statements and concepts contained in the article.