Per se performance of elephant grass hybrids for energy purposes
Bruna Rafaela da Silva Menezes

Doutoranda na Universidade Estadual do Norte Fluminense Darcy Ribeiro

Rogério Figueiredo Daher

Professor na Universidade Estadual do Norte Fluminense Darcy Ribeiro

Geraldo de Amaral Gravina

Professor na Universidade Estadual do Norte Fluminense Darcy Ribeiro

Romildo Domingos Gottardo

Metrando na Universidade Estadual do Norte Fluminense Darcy Ribeiro

Larissa Scheideger Athayde Schneider

Metranda na Universidade Estadual do Norte Fluminense Darcy Ribeiro

Avelino dos Santos Rocha

Metrando na Universidade Estadual do Norte Fluminense Darcy Ribeiro
Keywords:
bioenergy, biomass, Pennisetum purpureum
Abstract
The aim of this study was to evaluate the Per se performance of elephant grass hybrids obtained by partial diallel crossing and also their parents for energy purposes through agronomic traits during rainy and dry seasons. The experiment was conducted at Pesagro experimental station, Campos dos Goytacazes, RJ, Brazil, in randomized blocks, with three repetitions. The crosses were made between contrasting parents in a partial diallel scheme with 5 female parents x 5 male parents. The treatments consisted of ten parents, twenty-five hybrid combinations and the control. Three cuts were realized for evaluations (April and October 2013 and April 2014). The characteristics evaluated were: plant height (ALT), in m; stem diameter (SD), in cm; leaf blade width (LB), in cm; number of tillers per linear meter (NP); dry matter percentage (%DM) and dry matter production (DMP), in t.ha-1. Variance analysis were performed and the means were grouped according to Scott-Knott test (P <0.05). It was oberved that the hybrid H4 (Cuban Pinda x Taiwan A-144), H7 (Cameroon - Piracicaba x Três Rios), H8 (Cameroon - Piracicaba x Mercker 86-Mexico), H10 (Cameroon - Piracicaba x Roxo), H13 (P241-86-Piracicaba x Mercker 86-Mexico), H17 (IAC Campinas x Três Rios) and H18 (IAC-86-Campinas x Mercker 86-Mexico) presented high biomass production.
Downloads
Download data is not yet available.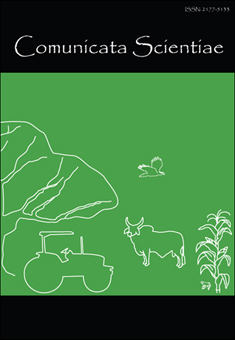 How to Cite
Menezes, B. R. da S., Daher, R. F., Gravina, G. de A., Gottardo, R. D., Schneider, L. S. A., & Rocha, A. dos S. (2016). Per se performance of elephant grass hybrids for energy purposes. Comunicata Scientiae, 7(1), 73-85. https://doi.org/10.14295/cs.v7i1.946
Copyright (c) 2016 Bruna Rafaela da Silva Menezes, Rogério Figueiredo Daher, Geraldo de Amaral Gravina, Romildo Domingos Gottardo, Larissa Scheideger Athayde Schneider, Avelino dos Santos Rocha
This work is licensed under a Creative Commons Attribution-NonCommercial 4.0 International License.
All articles published may be reproduced or utilized in any form or by any means whether specified Comunicata Scientiae, author(s), volume, pages and year. The authors are responsible for all the statements and concepts contained in the article.