Allelopathic effect of Passiflora alata Curtis extracts on seed germination
Keywords:
initial growth, inhibition, sweet passion fruit
Abstract
Many plant chemical compounds can interfere on seed germination and on the development of other plants. Thus, this research aimed to verify the effect of sweet passion fruit seeds (Passiflora alata Curtis) extracts, under lettuce seed germination and lettuce seedlings growing. The experiment was carried out in a controlled environment. The treatments were: T1-distilled water as a control; T2-embryo extract; T3- tegument extract; T4- whole grain extract; T5- soaking solution. Lettuce seed (Lactuca sativa L.) cv. Babá de Verão, was used as a bioindicator of the allelopathic effect. When the treatment of embryo extract of sweet passion fruit was applied, a lower germination percentage and lower speed emergence rate of lettuce seeds were observed. The largest number of abnormal seedlings was observed from seeds germinated in the embryo extract (T2) and the soaking solution (T5). The sweet passion fruit embryo extract discloses compounds that are able to inhibit the germination and can negatively influence the development of lettuce seedlings.
Downloads
Download data is not yet available.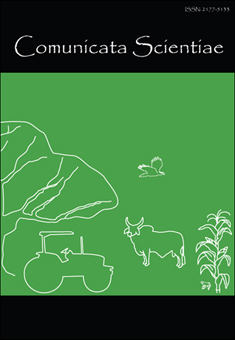 Downloads
How to Cite
Freitas, A. R. de, Lopes, J. C., Mengarda, L. H. G., Zanotti, R. F., & Venancio, L. P. (2016). Allelopathic effect of Passiflora alata Curtis extracts on seed germination. Comunicata Scientiae, 7(1), 129–132. https://doi.org/10.14295/cs.v7i1.842
License
All articles published may be reproduced or utilized in any form or by any means whether specified Comunicata Scientiae, author(s), volume, pages and year. The authors are responsible for all the statements and concepts contained in the article.