Characterization of white-fleshed peach cultivars grown in the 'Zona da Mata' area of Minas Gerais State, Brazil
Danielle Fabíola Pereira da Silva

Universidade Federal de Viçosa

Rosana Gonçalves Pires Matias

José Osmar da Costa e Silva

Universidade Federal de Viçosa

Alejandro Hurtado Salazar

Universidade Federal de Viçosa

Claudio Horst Bruckner

Universidade Federal de Viçosa
Keywords:
Adaptation, Prunus persica, fruit quality
Abstract
There are few information on the physical and chemical characteristics of peach fruit in subtropical climate regions and the majority of the studies were developed in the southern region of Brazil. In this study, physical and chemical characteristics of 12 white-fleshed peach cultivars (Cristal, Cristal Tacoari, Colibri, Delicioso Precoce, Jóia 1, Jóia 2, Jóia 4, Marli, Okinawa, Pérola de Itaquera, Premier and Tropical) were evaluated. The cultivars were planted in the experimental orchard of the Federal University of Viçosa (UFV), Viçosa – MG, Brazil. The experiment was conducted during the 2011 harvest season, in a completely randomized design with 12 treatments (cultivars), three replications and 10 fruits per plot. The cultivars Delicioso Precoce and Marli showed, in general, higher mass and fruit diameter. Fruits of cultivars Jóia 2 and Tropical presented higher firmness. Cultivar Tropical stood out with better balance between acidity and soluble solids and higher vitamin C and carotenoids contents.
Downloads
Download data is not yet available.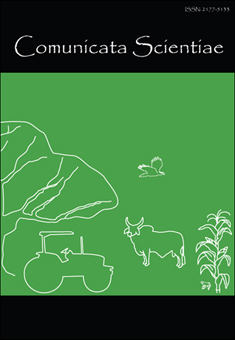 How to Cite
Silva, D. F. P. da, Matias, R. G. P., Silva, J. O. da C. e, Salazar, A. H., & Bruckner, C. H. (2016). Characterization of white-fleshed peach cultivars grown in the 'Zona da Mata' area of Minas Gerais State, Brazil. Comunicata Scientiae, 7(1), 149-153. https://doi.org/10.14295/cs.v7i1.781
This work is licensed under a Creative Commons Attribution-NonCommercial 4.0 International License.
All articles published may be reproduced or utilized in any form or by any means whether specified Comunicata Scientiae, author(s), volume, pages and year. The authors are responsible for all the statements and concepts contained in the article.