Multivariate analysis of 'bacuri' reproductive and vegetative morphology
Keywords:
diversidade fenotípica, Distância de Mahalanobis, Platonia insignis
Abstract
The objective of this study was to characterize sixteen genotypes of P. insignis available in the Embrapa Meio-Norte germplasm collection (Teresina, Piauí, Brazil) with respect to 33 morphological traits relating to leaves, flowers, branches, fruits and seeds. Phenotypic variance among genotypes was estimated using the Mahalanobis distance technique and the unweighted pair group method with arithmetic mean analysis (UPGMA). The method of Singh (1981) was used to determine which of the traits contributed most to diversity within genotypes. The occurrence of phenotypic variability among P. insignis genotypes indicated that it would be possible to achieve positive gains with selection. The most distant genotypes were BGB 16 and BGB 48, while crosses between genotype BGB 48 and genotypes BGB 32 and BGB 56 offers the greatest potential as parental types for this fruit tree breeding programs . The flesh content, ovary and fruit length , ratio between fruit length and diameter were the characters that most contributed to diversity among the studied genotypes.
Downloads
Download data is not yet available.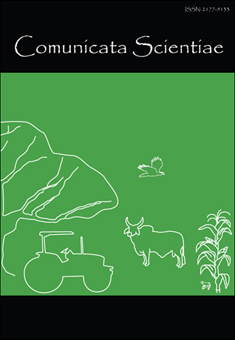 Downloads
How to Cite
Souza, I. G. de B., Souza, V. A. B. de, Silva, K. J. D. e, & Lima, P. S. da C. (2016). Multivariate analysis of 'bacuri' reproductive and vegetative morphology. Comunicata Scientiae, 7(2), 232–240. https://doi.org/10.14295/cs.v7i2.779
License
All articles published may be reproduced or utilized in any form or by any means whether specified Comunicata Scientiae, author(s), volume, pages and year. The authors are responsible for all the statements and concepts contained in the article.