Leaf presence and indolebutyric acid on cuttings rooting of dragon tree
Keywords:
auxin, Paulownia fortunei var. Mikado, scrophulariaceae, vegetative propagation
Abstract
Paulownia fortunei (Scrophulariaceae), native to East Asia, has a wide geographical distribution. In this work was studied the rooting of Paulownia fortunei cuttings, with and without leaves, collected in three seasons and treated with the application of indolebutyric acid (IBA). Cuttings were also compared for possible anatomical differences between seasons. Originated from current year shoots in autumn/2011, spring/2011 and summer/2012, two types of cuttings were prepared: one about 10-12 cm long, with bevel cut on the base and straight at the apex, with two leaves reduced to an area of 78.5 cm²; the other with the same specifications, with leaves completely removed. After disinfection, base of the cuttings was treated with IBA (0, 500, 1.000, 1.500 and 2.000 mg L-1). Planting was made in tubes of 110 cm³, with medium size vermiculite particles and carbonized rice hull (1:1) and installed in a greenhouse with intermittent mist. After 60 days it was verified that the absence of leaves favored the adventitious rooting in all the seasons, with the highest rooting percentage in autumn (12.75%). The application of IBA did not have influence on rooting of any type of cuttings. No anatomical differences were observed between the bases of cuttings collected in the studied seasons.
Downloads
Download data is not yet available.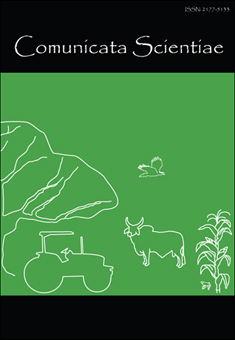 Downloads
How to Cite
Stuepp, C. A., Zuffellato-Ribas, K. C., Wendling, I., Koehler, H. S., & Bona, C. (2015). Leaf presence and indolebutyric acid on cuttings rooting of dragon tree. Comunicata Scientiae, 6(2), 181–193. https://doi.org/10.14295/cs.v6i2.755
License
All articles published may be reproduced or utilized in any form or by any means whether specified Comunicata Scientiae, author(s), volume, pages and year. The authors are responsible for all the statements and concepts contained in the article.