Nutrition behavior of olive trees with the application of organomineral fertilizer
Raoni Pereira de Carvalho

Universidade Federal dos Vales do Jequitinhonha e Mucuri

Rodrigo Amato Moreira

Universidade Federal dos Vales do Jequitinhonha e Mucuri

Maria do Céu Monteiro da Cruz

Universidade Federal dos Vales do Jequitinhonha e Mucuri

Adelson Francisco de Oliveira

EPAMIG

Miriã Cristina Pereira Fagundes

Universidade Federal dos Vales do Jequitinhonha e Mucuri
Keywords:
Barnea, fertilization, Grappolo 541, Olea europeae L., plant nutrition
Abstract
The application of organomineral fertilizers has been used to reach the nutrient demand of plants, because this practice can reduce the need for chemical sources, favoring the improvement of soil structure and utilization of nutrients by plants. Thus, this study was done to evaluate the nutritional behavior of two olive varieties with reduction of chemical fertilization and application of organomineral fertilizer. The research was conducted in the city of Diamantina, Minas Gerais, Brazil. Three-years-old olive tree varieties 'Barnea' and 'Grappolo 541', cultivated at a spacing of 5 m between rows and 3 m between plants on Quartzarenic Neosol were evaluated. The 4 x 2 factorial design was used, being the factors four fertilization and two varieties. Fertilization consisted of 100%, 75%, 50%, 0% of mineral fertilization recommended for olive tree, distributed in a randomized block design with three blocks and three plants per plot. In all the olive trees were applied three liters of organomineral fertilizer. To assess the levels of nutrients, soil and leaf samples were taken before and at eight months after the treatments. The application of threes liters of organomineral fertilizer provided appropriate nutrient levels in the leaves of olive tree varieties 'Barnea' and 'Grappolo 541' with 100% of reduction of chemical fertilizer.
Downloads
Download data is not yet available.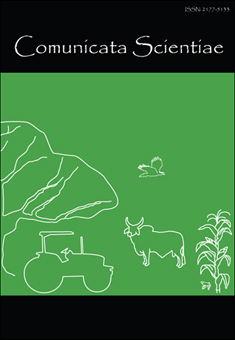 How to Cite
de Carvalho, R. P., Moreira, R. A., da Cruz, M. do C. M., de Oliveira, A. F., & Fagundes, M. C. P. (2015). Nutrition behavior of olive trees with the application of organomineral fertilizer. Comunicata Scientiae, 6(2), 224-233. https://doi.org/10.14295/cs.v6i2.721
Copyright (c) 2015 Raoni Pereira de Carvalho, Rodrigo Amato Moreira, Maria do Céu Monteiro da Cruz, Adelson Francisco de Oliveira, Miriã Cristina Pereira Fagundes
This work is licensed under a Creative Commons Attribution-NonCommercial 4.0 International License.
All articles published may be reproduced or utilized in any form or by any means whether specified Comunicata Scientiae, author(s), volume, pages and year. The authors are responsible for all the statements and concepts contained in the article.