Microbiological and sensory profile of jelly conventional umbu-cajá
Keywords:
index of acceptability, processing, Spondias spp.
Abstract
Jelly is one of the most widely used alternative to the use of surplus production during the harvest of various fruits. The objective of the research was develop jellies conventional umbu-caja, varying the sugar and pectin concentrations and evaluate the microbiological and sensory profile of the product. The conventional jellies (GC) were prepared to a 22 factorial planning with two central experiments. To preparation were used diluted pulp, sugar (50, 55 and 60%) and pectin (0.5, 1.0 and 1.5%). The formulations were heated and concentrated until the soluble solids content of ? 63 º Brix. The jellies were subjected to microbiological and sensory tests with 40 tasters with the application of acceptance testing using hedonic scale nine-point, which evaluated the attributes of color, appearance, aroma, texture, taste, sweetness, overall impression and intention to purchase. All experiments were within the microbiological standards established by legislation. The jellies GC1 and GC5 were the experiments that had higher rates of acceptability 82.21 and 81.24% respectively. The variation in the concentrations of sugar and pectin influenced significantly the bills assigned to the consistency and color was the attribute with the acceptance highest second assessment of the tasters.
Downloads
Download data is not yet available.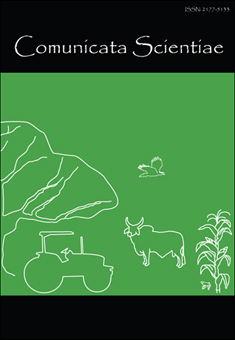 Downloads
How to Cite
Oliveira, E. N. A. de, Santos, D. da C., Rocha, A. P. T., & Gomes, J. P. (2015). Microbiological and sensory profile of jelly conventional umbu-cajá. Comunicata Scientiae, 6(2), 250–254. https://doi.org/10.14295/cs.v6i2.506
License
All articles published may be reproduced or utilized in any form or by any means whether specified Comunicata Scientiae, author(s), volume, pages and year. The authors are responsible for all the statements and concepts contained in the article.