Atrophic rhinitis and pneumonia occurence in hybrid and undefined breed swines from intensive production system
Juliana Fortes Vilarinho Braga

Universidade Federal de Minas Gerais

Maurício de Paula Ferreira Teixeira

Universidade Federal de Minas Gerais

João Batista Lopes

Universidade Federal do Piauí

Manoel Henrique Klein Júnior

Universidade Federal do Piauí

Silvana Maria Medeiros de Sousa Silva

Universidade Federal do Piauí
Keywords:
swine culture, respiratory diseases, Northeast of Brazil, suidae
Abstract
The atrophic rhinitis (AR) and pneumonia are among the most frequently diagnosed respiratory diseases in swine production systems and can lead to significant economic losses. The aim of this study was to determine the occurrence and degree of AR and pneumonia in hybrids and undefined breed swine herds submitted to intensive farming system and check if there is an association between the occurrence of these diseases in the herds. For this, we used 30 swines hybrids (Group I) and 30 undefined breed swines (Group II) from intensive farming system. The index of atrophic rhinitis (IAR) of herds for Groups I and II were, respectively, 1.00 and 0.57. In Group I, 20.8% (5/24) of the pigs presented pneumonia, while none of the animals in Group II exhibited this pathology. There was no correlation between the presence of atrophic rhinitis and pneumonia for the studied animals. These are the first data on the occurrence of these diseases in swines of Piauí State, Brazil. We demonstrated that these pathologies are present in animals from intensive farming systems and that occurrence varied according to racial type, being the hybrid swines the most affected animals by AR and pneumonia.
Downloads
Download data is not yet available.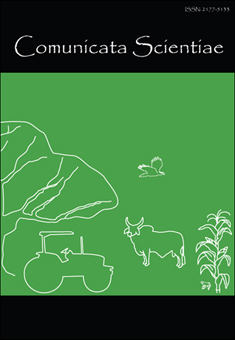 How to Cite
Braga, J. F. V., Teixeira, M. de P. F., Lopes, J. B., Klein Júnior, M. H., & Silva, S. M. M. de S. (2016). Atrophic rhinitis and pneumonia occurence in hybrid and undefined breed swines from intensive production system. Comunicata Scientiae, 7(1), 24-29. https://doi.org/10.14295/cs.v7i1.504
This work is licensed under a Creative Commons Attribution-NonCommercial 4.0 International License.
All articles published may be reproduced or utilized in any form or by any means whether specified Comunicata Scientiae, author(s), volume, pages and year. The authors are responsible for all the statements and concepts contained in the article.