The housefly Musca domestica L. (Diptera: Muscidae) as a potential paratenic host in the city of Bom Jesus - Piauí, Brazil
Mauro Sergio Cruz Souza Lima

UFPI Universidade Federal do Piauí

Maria Regiane Araújo Soares

UFPI Universidade Federal do Piauí

Jonas Pederassi

Ong Bioma

Brisa Costa Guimarães Aguiar

UFPI Universidade Federal do Piauí

Carlos Alberto Sanches Pereira

UGB Centro Universitário Geraldo di Biase
Keywords:
public health, parasitology, mechanic vector, pathogens
Abstract
The common housefly Musca domestica, is of great importance to public health because it is a mechanical vector of pathogens, and acts as an agricultural blight affecting the productivity of chicken and cattle farming. In Bom Jesus, Piauí, Brazil, the proliferation of this vector was intensified with the absence of regulated slaughterhouses and environmental changes caused by disorder and rapid agricultural expansion. In order to isolate eggs and cysts/oocysts of enteric parasites in adults of M. domestica, this study used the "jug-trap" method from October 2008 to October 2009.  In the ecological analysis was used the Concentration of Relative Dominance (CRD) as well the Bodenheimer's Constancy. In 96 collections, 1180 specimens of M. domestica were captured, from which five species of protozoans (Entamoeba histolytica/dispar/ moshkovskii, Entamoeba coli, Iodamoeba butschlii, Cystoisospora sp., and Giardia sp.) and five species of helminths  (Ascaris sp., Trichuris trichiura, Hymenolepis nana and Enterobius vermicularis) were isolated. The role of the housefly as a potential mechanical transporter of potentially pathogenic enteric parasite to humans in environments from Piauí city, Brazil, is suggested.
Downloads
Download data is not yet available.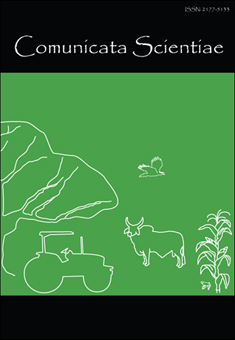 How to Cite
Lima, M. S. C. S., Soares, M. R. A., Pederassi, J., Aguiar, B. C. G., & Pereira, C. A. S. (2014). The housefly Musca domestica L. (Diptera: Muscidae) as a potential paratenic host in the city of Bom Jesus - Piauí, Brazil. Comunicata Scientiae, 5(3), 349-355. https://doi.org/10.14295/cs.v5i3.461
All articles published may be reproduced or utilized in any form or by any means whether specified Comunicata Scientiae, author(s), volume, pages and year. The authors are responsible for all the statements and concepts contained in the article.