Variabilidade genética entre cultivares de soja, quanto ao rendimento de óleo, no estado do Tocantins
Leonardo Alves Lopes

Unitins - Palmas

Joênes Muci Peluzio

Universidade Federal do Tocantins

Flávio Sérgio Afférri

Universidade Federal do Tocantins

Edmar Vinícius de Carvalho

Universidade Federal do Tocantins
Abstract
Com objetivo de avaliar a divergência genética entre 21 cultivares comerciais de soja, quanto à percentagem de óleo, foram realizados cinco ensaios de competição de cultivares no ano agrícola 2008/09, sendo dois na área experimental da Universidade Federal do Tocantins em Palmas (30/11/2008, 16/12/2008) e três na área experimental da Universidade Federal do Tocantins em Gurupi (03/12/2008, 18/12/2008 e 05/01/2009). Os cultivares estudados foram P98Y70, M 8766RR, M 9144RR, BR/EMGOPA 314, P98R91, P98Y51, M 9988RR, P99R01, M 8867RR, M 9056RR, M 8527RR, M 8360RR, FT Esperança, FTS 4188, CM 015, CM 017, CM 136, CM 149, CM 102, Nidera A7002, M 9350. A divergência genética foi avaliada para rendimento de óleo, por meio de procedimentos multivariados: distância generalizada de Mahalanobis, método de agrupamento de otimização de Tocher. No estudo da divergência genética, cada ensaio representou uma variável distinta no modelo multivariado. Foi observada variabilidade genética entre as cultivares. As hibridações M 9144RR x BR/EMGOPA 314, M 9144RR x Nidera A7002 e FTS 4188 x M 9144RR, são promissoras para obtenção de populações segregantes para o rendimento de óleo.
Downloads
Download data is not yet available.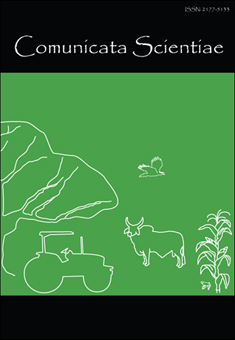 How to Cite
Lopes, L. A., Peluzio, J. M., Afférri, F. S., & de Carvalho, E. V. (2014). Variabilidade genética entre cultivares de soja, quanto ao rendimento de óleo, no estado do Tocantins. Comunicata Scientiae, 5(3), 279-285. https://doi.org/10.14295/cs.v5i3.411
All articles published may be reproduced or utilized in any form or by any means whether specified Comunicata Scientiae, author(s), volume, pages and year. The authors are responsible for all the statements and concepts contained in the article.