Modulatory Effect of Green Tea against Genotoxicity of Hydrocortisone in Mice
Keywords:
Chromosomal aberration, Hydrocortisone, Green tea, Mice, Protection, Sister chromatid exchange
Abstract
Natural compounds are known to possess protective effects against the genotoxicity of drugs and chemicals. Green tea is the most widely used beverage in the world, contains bioactive compounds. Hydrocortisone is a corticosteroid hormonal drug widely used for treatment of a variety of inflammatory, asthma, allergic and immune diseases. The widespread use of this drug is of great concern to human health problems. Therefore, the genotoxic potential of hydrocortisone was evaluated using different mutagenic endpoints including sister chromatid exchanges (SCE′s) in bone marrow cells and chromosomal aberrations in mouse spermatocytes. The modulatory effect of the methanol extract of green tea (MEGT) was also studied. Hydrocortisone was given intraperitoneally (i.p) at three doses 26, 39 and 52 mg/kg b.w. MEGT was given orally at dose 390 mg/kg. Mice were simultaneously treated with hydrocortisone and MEGT in single treatment and repeated treatment. The results showed that all doses of hydrocortisone induced significant increase in the frequency of SCE′s with a dose dependent manner. Both Single and repeated treatment of hydrocortisone induced a statistically significant in the incidence of chromosomal aberration in mouse spermatocytes excepting  the dose 26 mg∕ kg b.wt in single treatment regimen. These findings suggested that hydrocortisone has genotoxic activity in bone marrow and spermatocytes. On the other hand, MEGT suppressed the frequency of SCE′s and chromosomal aberrations induced by hydrocortisone however such suppression was not reached to the normal control values.
Downloads
Download data is not yet available.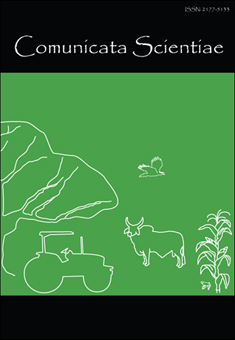 Downloads
How to Cite
Fahmy, M. A., Diab, K. A. E., Ali Hassan, N. H., & Farghaly, A. A. (2014). Modulatory Effect of Green Tea against Genotoxicity of Hydrocortisone in Mice. Comunicata Scientiae, 5(3), 213–221. https://doi.org/10.14295/cs.v5i3.378
License
All articles published may be reproduced or utilized in any form or by any means whether specified Comunicata Scientiae, author(s), volume, pages and year. The authors are responsible for all the statements and concepts contained in the article.