Efficacy of Corn and Rice Seed-borne Mycoflora in Controlling Aflatoxigenic Aspergillus flavus
Adel K. Madbouly

Ain Shams University, Abbassia, Cairo, Egypt & Tabuk University, Tabuk, Saudi Arabia

Mohamed I.M. Ibrahim

National Research center, Dokki, Cairo, Egypt

Mosaad Attia Abdel-Wahhab

National Research Center, Dokki, Cairo, Egypt
Keywords:
Biocontrol, cereals, mycoflora, Aspergillus flavus, aflatoxins, biopreservative
Abstract
Food commodities such as cereals are subjected to spoilage and bio-deterioration during storage by mycotoxigenic fungi such as Aspergillus flavus. Efforts are done to biologically control toxigenic A. flavus and subsequently prevent or at least minimize its aflatoxin production ability, without the need of using synthetic fungicides. Antifungal activity of corn and rice seed-borne mycoflora was tested against aflatoxigenic A. flavus in vitro, using bioassays such as dual culture technique; ability to produce volatile and non-volatile metabolites; ability to inhibit germination and reduce germ tube length of A. flavus conidia; in vivo reduction of aflatoxins level in corn seeds co-inoculated with the pathogen and antagonists. Penicillum crustosum, Aspergillus giganteus, Fusarium verticillioides and Aspergillus fumigatus isolates showed promising antifungal activities and varying efficiencies of reducing aflatoxins level; however, only A. fumigatus isolate was non-aflatoxigenic. It could be concluded that A. fumigatus could be used effectively as a biopreservative to increase shelf life of cereals during storage, but after testing its tendency to produce other mycotoxins or causing human Aspergillosis.
Downloads
Download data is not yet available.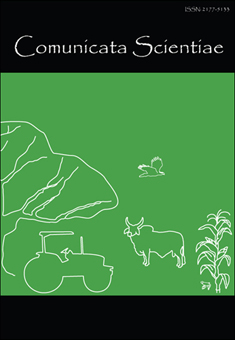 How to Cite
Madbouly, A. K., Ibrahim, M. I., & Abdel-Wahhab, M. A. (2014). Efficacy of Corn and Rice Seed-borne Mycoflora in Controlling Aflatoxigenic Aspergillus flavus. Comunicata Scientiae, 5(2), 118-130. https://doi.org/10.14295/cs.v5i2.284
All articles published may be reproduced or utilized in any form or by any means whether specified Comunicata Scientiae, author(s), volume, pages and year. The authors are responsible for all the statements and concepts contained in the article.