Stability of caja jellies during storage at ambient conditions
Keywords:
Spondias mombim L., processing, shelf-life
Abstract
The jelly production is an alternative use of cajazeira fruits, since they have good nutritional and sensory characteristics for processing. The aim of the research was to develop and evaluate the physical and chemical stability of caja jellies prepared with different concentrations of sugar and pectin during storage at ambient conditions. It was used a 22 factorial experimental design with 3 central points. After processing, the jellies were stored at room temperature 26 ºC and relative humidity 78% average of Campina Grande, Paraíba, for a period of 150 days. After processing and during storage, the jellies were evaluated as the physical and chemical characteristics. There was an increase in the values of water content, total soluble solids, reducing sugars, total sugars and ratio, and reduction in total solids, non-reducing sugars, pH and acidity of jellies with storage. All formulations showed a reduction in the amounts of water activity, with the exception of the experiments made with the highest concentration of pectin. The stockpiling did not significantly affect the values of water activity and ratio for all caja jelly.
Downloads
Download data is not yet available.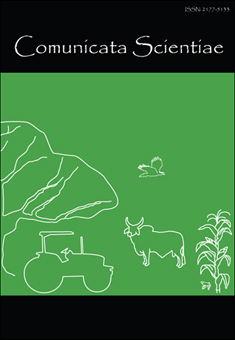 Downloads
How to Cite
Martins, J. J. A., Oliveira, E. N. A. de, Rocha, A. P. T., & Santos, D. da C. (2015). Stability of caja jellies during storage at ambient conditions. Comunicata Scientiae, 6(2), 164–173. https://doi.org/10.14295/cs.v6i2.282
License
All articles published may be reproduced or utilized in any form or by any means whether specified Comunicata Scientiae, author(s), volume, pages and year. The authors are responsible for all the statements and concepts contained in the article.