Irrigation with saline water and foliar application of proline in 'All Big'sweet pepper
Geovani Soares de Lima

Doutor em Engenharia Agrícola e atualmente Pós-Doutorando CAPES/Universidade Federal de Campina Grande/Centro de Tecnologia e Recursos Naturais.

João Batista dos Santos

Universidade Federal de Campina Grande

Lauriane Almeida dos Anjos Soares

Universidade Federal de Campina Grande

Hans Raj Gheyi

Universidade Federal do Recôncavo da Bahia

Reginaldo Gomes Nobre

Universidade Federal de Campina Grande

Rennan Fernandes Pereira

Universidade Federal da Paraíba
Abstract
It is proposed in this study the evaluation of the growth and yield of 'All Big' sweet pepper under foliar application of proline and irrigation with saline water. The research was conducted in pots adapted as drainage lisimeters under greenhouse conditions, using an Eutrophic Entisol with sandy-loam texture in the municipality of Campina Grande, PB, Brazil. A randomized block design was used testing two levels of electrical conductivity of irrigation water - ECw (0.6 and 3.0 dS m-1) associated to four proline levels (0, 10, 20 and 30 mmol L-1). Irrigation with water with ECw= 3.0 dS m-1 negatively affected the 'All Big'pepper growth and the stem dry mass, being the most sensitive variable; the highest values for fresh mass, number and average weight of pepper fruits were obtained when water with ECw=0.6 dS m-1 was used, with proline doses of 12.17 and 0 mmol L-1, respectively; increasing proline doses did not mitigate the deleterious effects caused by irrigation water salinity of 3.0 dS m-1 on growth and yield of 'All Big ' sweet pepper.
Downloads
Download data is not yet available.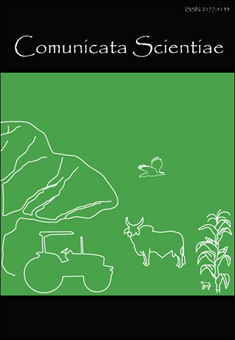 How to Cite
Lima, G. S. de, Santos, J. B. dos, Anjos Soares, L. A. dos, Gheyi, H. R., Nobre, R. G., & Pereira, R. F. (2017). Irrigation with saline water and foliar application of proline in 'All Big'sweet pepper. Comunicata Scientiae, 7(4), 513-522. https://doi.org/10.14295/cs.v7i4.1671
Copyright (c) 2017 Geovani Soares de Lima, João Batista dos Santos, Lauriane Almeida dos Anjos Soares, Hans Raj Gheyi, Reginaldo Gomes Nobre, Rennan Fernandes Pereira
This work is licensed under a Creative Commons Attribution-NonCommercial 4.0 International License.
All articles published may be reproduced or utilized in any form or by any means whether specified Comunicata Scientiae, author(s), volume, pages and year. The authors are responsible for all the statements and concepts contained in the article.