Effects of planting distances and Bacillus thuringiensis Berliner on Alabama argillacea (Hübner), Aphis gossypii Glover and natural enemies of cotton
Sergio Antonio De Bortoli

FCAV-Unesp, Jaboticabal, SP.

Alessandra Marieli Vacari

FCAV-Unesp, Jaboticabal, SP.

Maurício do Carmo Fernandes

FCAV-Unesp, Jaboticabal, SP.

Caroline Placidi De Bortoli

FCAV-Unesp, Jaboticabal, SP

Sergio Leandro Placidi De Bortoli

FCAV-Unesp, Jaboticabal, SP.

Dagmara Gomes Ramalho

FCAV-Unesp, Jaboticabal, SP
Keywords:
cotton leafworm, cotton aphid, cropping system, Dipel®, entomopathogenic bacterium, pathogenicity
Abstract
Some insects are important pests in cotton crops and can cause serious yield losses. Among them we can relate Alabama argillacea (cotton leafworm) and Aphis gossypii (cotton aphid), demanding, often, the use of control measures. This study aimed to evaluate the toxicity of Bacillus thuringiensis (Dipel®) to cotton leafworm and analyze its effect on the occurrence of this pest and the cotton aphid in cotton grown under two system of row spacing, in two places in the State of Mato Grosso, Brazil, as well as in some natural enemies. The toxicity was evaluated using doses of 0.30, 0.50, 0.75 and 1.00 L/ha, considering large cotton leafworm larvae (>1.5 cm) and small ones (<1.5 cm) in a laboratory bioassay. The effect of the biopesticide on A.argillacea and A. gossypii was compared in cotton grown in row spacing of 0.90m (conventional) and 0.45m (reduced). The results indicate that: Dipel® has good efficiency for control A. argillacea caterplillars and is selective for A. gossypii, causing a significant increase in cotton yield; 0.45m row spacing promotes a decrease in density of larvae of A. argillacea and A.gossypii, and yield is similar in both spacing, 0.90 and 0.45m, and bigger in treated areas.
Downloads
Download data is not yet available.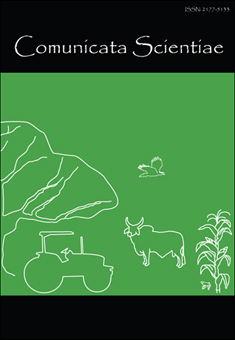 How to Cite
De Bortoli, S., Vacari, A., Fernandes, M., De Bortoli, C., De Bortoli, S. L., & Ramalho, D. (2015). Effects of planting distances and Bacillus thuringiensis Berliner on Alabama argillacea (Hübner), Aphis gossypii Glover and natural enemies of cotton. Comunicata Scientiae, 6(2), 202-211. https://doi.org/10.14295/cs.v6i2.156
Copyright (c) 2015 Sergio Antonio De Bortoli, Alessandra Marieli Vacari, Maurício do Carmo Fernandes, Caroline Placidi De Bortoli, Sergio Leandro Placidi De Bortoli, Dagmara Gomes Ramalho
This work is licensed under a Creative Commons Attribution-NonCommercial 4.0 International License.
All articles published may be reproduced or utilized in any form or by any means whether specified Comunicata Scientiae, author(s), volume, pages and year. The authors are responsible for all the statements and concepts contained in the article.