Seed germination and vigor of different cowpea cultivars under salt stress
Abstract
Cowpea is an important food crop in underdeveloped regions, mainly for arid and semi-arid regions, where water scarcity and salinity are limiting factors. The identification of salt-tolerant varieties can assist the crop expansion and yield increase. Thus, the objective of this study was to assess the germination and vigor of seeds from cowpea cultivars (Vigna unguiculata L. Walp.), under salt stress. For this, the experiment was carried out at the Seed Analysis Laboratory, Federal Rural University of the Semiarid (UFERSA), Mossoró, RN, Brazil,from October to November, 2014. Ten cowpea cultivars (BRS Guariba; BRS Potengi; BRS Itain; BRS 17 Gurguéia; BRS Aracê; Paulistinha; Pingo de Ouro; BRS Maratanã; Costela de Vaca and Canapu Branco) were studied using a 10x2 factorial design under two water salinity levels (0.0 = control and 8.0 dS m-1), in four replications with 50 seeds each. Germination and vigor were assessed through first count and standard test, root and hypocotyl length and total dry matter accumulation, in addition to salt tolerance index. Salt stress promoted growth reduction on cowpea cultivars and decreased the germination of the cultivars BRS Itain, Pingo de Ouro and Costela de Vaca. The BRS Aracê, Paulistinha and Canapu Branco cultivars are the most tolerant to salinity, while BRS Itain, BRS Gurguéia, Costela de Vaca and BRS Maratanã are the most sensitive to this stress during the germination phase.
Downloads
Download data is not yet available.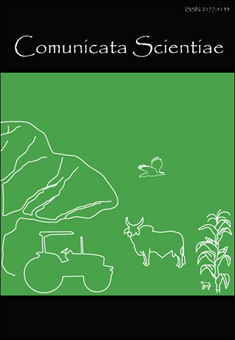 Downloads
Additional Files
How to Cite
Sá, F. V. da S., Paiva, E. P. de, Torres, S. B., Brito, M. E. B., Nogueira, N. W., Frade, L. J. G., & Freitas, R. M. O. de. (2017). Seed germination and vigor of different cowpea cultivars under salt stress. Comunicata Scientiae, 7(4), 450–455. https://doi.org/10.14295/cs.v7i4.1541
License
All articles published may be reproduced or utilized in any form or by any means whether specified Comunicata Scientiae, author(s), volume, pages and year. The authors are responsible for all the statements and concepts contained in the article.