Survival, rooting and biomass of acerola mini-cuttings using purple nutsedge extract
Francisco Mickael Medeiros Câmara

Universidade Federal Rural do Semi-Árido - UFERSA

Adriano Soares de Carvalho

Universidade Federal Rural do Semi-Árido - UFERSA

Vander Mendonça

Universidade Federal Rural do Semi-Árido - UFERSA

Renan da Cruz Paulino

Universidade Federal Rural do Semi-Árido - UFERSA

Francisco Ésio Porto Diógenes

Universidade Federal Rural do Semi-Árido - UFERSA
Keywords:
Cyperus rotundus, natural extract, mini-cutting, fruit production, seedlings production
Abstract
With the need of a large-scale seedling production, the application of purple nutsedge extract may represent a promising alternative, contributing to the fruit species propagation. The aim of this study was to evaluate the effects of nutsedge extract on the survival rate, rooting and biomass of acerola's mini-cuttings. The experimental design was a completely randomized block, with a 5x2 factorial arrangement (five aqueous purple nutsedge extracts of nutsedge (0%, 25%, 50%, 75% and 100%) and two types of mini-cuttings, a pair of entire leaves and a pair of half leaves) resulting in 10 treatments with 5 repetitions and 8 mini-cuttings per repetition. The evaluations were performed at 75 days after planting, when destructive analysis were carried out for morphological characteristics. The evaluates variables were mini-cuttings survival percentage, percentage of mini-cuttings with sprouts, percentage of mini-cuttings with callus, percentage of minicuttings with roots, root system length, shoot dry mass, root dry mass, total dry biomass and the ratio between shoot and root dry mass. For the experiment conditions, the nutsedge extract positively influenced the survival percentage and percentage of sprouting of acerola's mini-cuttings, however the extract application did not influence the mini-cuttings biomass of, being the results observed with or without the cut on mini-cuttings leaves.
Downloads
Download data is not yet available.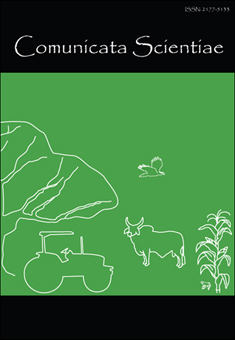 How to Cite
Medeiros Câmara, F. M., Soares de Carvalho, A., Mendonça, V., da Cruz Paulino, R., & Porto Diógenes, F. Ésio. (2016). Survival, rooting and biomass of acerola mini-cuttings using purple nutsedge extract. Comunicata Scientiae, 7(1), 133-138. https://doi.org/10.14295/cs.v7i1.1372
Copyright (c) 2016 Francisco Mickael Medeiros Câmara, Adriano Soares de Carvalho, Vander Mendonça, Renan da Cruz Paulino, Francisco Ésio Porto Diógenes
This work is licensed under a Creative Commons Attribution-NonCommercial 4.0 International License.
All articles published may be reproduced or utilized in any form or by any means whether specified Comunicata Scientiae, author(s), volume, pages and year. The authors are responsible for all the statements and concepts contained in the article.