Gamma radiation doses on strawberry quality maintenance
Keywords:
cold storage, Fragaria sp., gama irradiation, postharvest quality, decay
Abstract
Strawberries attracts consumers due to its bright red color, characteristic odor, soft texture and slightly acid taste, with several phytochemicals groups that can bring health benefits. However, strawberries are very susceptive to decay, with a short shelf life and do not support sanitization. The cooling reduces the metabolism of fruits during postharvest period and the irradiation can be used as a complement to improve fruit preservation. The aim of this study was to evaluate the application different doses of gama irradiation (0,0 KGy; 0,5 KGy; 1,0 KGy e 1,5 KGy) aiming an extended shelf life and quality maintenance of strawberries stored at cold room (0 ± 1ºC and 90 ± 5% RH) during 15 days. Doses of gama irradiation were not sufficient to change quality parameters and nutritional compounds in strawberries during storage, and the microbiological levels were acceptable until the end of storage period regardless the treatment. Fruit treated with 1,5 KGy were characterized for the higher anthocyanins levels and maintained the lower visual decay index during the last days of storage when compared to other treatments.
Downloads
Download data is not yet available.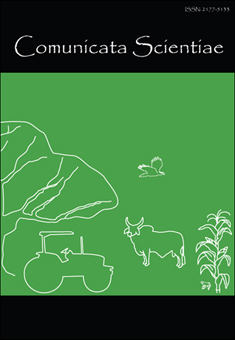 Downloads
How to Cite
Nassur, R. de C. M. R., Lima, R. A. Z., Lima, L. C. O., & Chalfun, N. N. J. (2016). Gamma radiation doses on strawberry quality maintenance. Comunicata Scientiae, 7(1), 38–48. https://doi.org/10.14295/cs.v7i1.1211
License
All articles published may be reproduced or utilized in any form or by any means whether specified Comunicata Scientiae, author(s), volume, pages and year. The authors are responsible for all the statements and concepts contained in the article.