The Comunicata Scientiae journal is published in yearly volumes of four issues (from 2012) edited by Campus"Profa Cinobelina Elvas" of Federal University of Piauí (Brazil) in March, June, September and December. It publishes original articles, scientific notes and review articles (when invited by the editorial board), which present significant importance for Agrarian and Environmental Sciences in Portuguese and, preferentially, in English.
Comunicata Scientiae is indexed in: SCOPUS (Elsevier), CAB Abstracts, AGRIS/FAO, Agricola (USDA), Chemical Abstracts Services, Genamics, Agora/FAO, EBSCO-Academic Search, Index Copernicus International,Chinese Eletronic Periodical Services (AIRITI Inc.), Eletronic Journals Library (The Elektronische Zeitschriftenbibliothek EZB), ProQuest CSA, BASE (Bielefeld Academic Search Engine),Ulrich's International Periodicals Directory, Gale Cengage Group, DIALNET, Text Journals in Chemistry (ABC Chemistry), Agrobase - Brazilian Agricultural Base, Directory of Open Access Journals, Sistema Regional de Información en Línea para Revistas Científicas de América Latina, el Caribe, España y Portugal (Latindex), Electronic Journals (e-journals) and Open J-gate.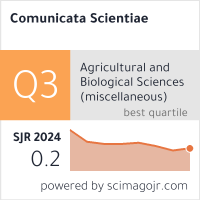 Announcements
Online First manuscripts

Herewith we would like to inform you the new information available for accepted manuscripts of Comunicata Scientiae and invite you to access its website.
Posted: 2017-03-10
More...

Comunicata covered by AGRICOLA/USDA

It is a pleasure to inform that Comunicata Scientiae is now covered by AGRICOLA (National Agricultural Library) from USDA (United States Department of Agriculture).

Editorial board thank the trust and will continue working hard to reach new steps

The link for journal's coverage is: 

http://agricola.nal.usda.gov/cgi-bin/Pwebrecon.cgi?Search_Arg=comunicata&DB=local&CNT=25&Search_Code=GKEY&x=0&y=0

Editorial board of Comunicata Scientiae
Posted: 2016-01-14
More...
Vol 7, No 4 (2016)
Table of Contents
Original Article
| | | |
| --- | --- | --- |
| | Adriana Favaretto, Fabiana Tonial, Charise Dallazem Bertol, Simone Meredith Scheffer-Basso | 420-427 |
| | | |
| --- | --- | --- |
| | Mourad Hattab, Abdelaziz Gaouar | 428-439 |
| | | |
| --- | --- | --- |
| | Juliano Perlin de Ramos, Jerônimo Luiz Andriolo, Ricardo Silveiro Balardin, Leandro Nascimento Marques, Pablo Tuzi Serafini, Marlon Tagliapietra Stefanelo | 440-449 |
| | | |
| --- | --- | --- |
| | Francisco Vanies da Silva Sá, Emanoela Pereira de Paiva, Salvador Barros Torres, Marcos Eric Barbosa Brito, Narjara Walessa Nogueira, Luciano Jonatas Gomes Frade, Rômulo Magno Oliveira de Freitas | 450-455 |
| | | |
| --- | --- | --- |
| | Reivany Eduardo Morais Lima, Laíse Ferreira de Araújo, Josivavia Rodrigues Barros, Marlos Alves Bezerra | 456-463 |
| | | |
| --- | --- | --- |
| | Elvis Felipe Elli, Braulio Otomar Caron, Gizelli Moiano de Paula, Elder Eloy, Felipe Schwerz, Denise Schmidt | 464-472 |
| | | |
| --- | --- | --- |
| | Diego Bortolini, Luís César Cassol, Jonatas Thiago Piva, Cristiam Bosi, Kassiano Felipe Rocha | 473-485 |
| | | |
| --- | --- | --- |
| | Lauana Pellanda de Souza, HUGO BOLSONI ZAGO, Patrícia Fontes Pinheiro, Wilson Rodrigues Valbon, Vitor Zuim, Dirceu Pratissoli | 486-493 |
| | | |
| --- | --- | --- |
| | Camila Pegoraro, Tatiane Timm Storch, Giseli Rodrigues Crizel, Cesar Valmor Rombaldi, César Luis Girardi | 494-503 |
| | | |
| --- | --- | --- |
| | Silvia de Carvalho Campos Botelho, Dulândula Silva Miguel-Wruck, Givanildo Roncatto, Suzinei Silva Oliveira, Fernando Mendes Botelho, Carmen Wobeto | 504-512 |
| | | |
| --- | --- | --- |
| | Geovani Soares de Lima, João Batista dos Santos, Lauriane Almeida dos Anjos Soares, Hans Raj Gheyi, Reginaldo Gomes Nobre, Rennan Fernandes Pereira | 513-522 |
Scientific Note
| | | |
| --- | --- | --- |
| | Elisson Alves Santana, Jackson Teixeira Lobo, Renan Nunes Pereira, Augusto Miguel Nascimento Lima, Jaílson Cavalcante Cunha, Ítalo Herbert Lucena Cavalcante | 523-527 |